Just thanks.
I woke up this morning, after sleeping less than 5 hours, wanting to write you again.
Paddling as fast as I can, 18 to 20 hours a day, I am still not quite keeping up with all the timely suggestions, offers of help, and messages of support. While I've been told to expect the
Kickstarter momentum
to drop off after the first 3 days, it seems to be still going. Yes, please, more!
Thank you all for the tremendous outpouring of support for our new book.
I've received some of the nicest compliments on Facebook, email, and all the websites from old friends, new friends, and perfect strangers. The folks who bookmarked our Kickstarter profile a year or more ago have been scooping up the early bird rewards faster than I can get the announcements out to the rest of our audience. We're starting to get visitors from the "popular" and "trending" listings on Kickstarter.
As each step gets done, and the project begins to move forward on its own, I felt a sense of release. The "weight being lifted" metaphor is trite and true. It's like pushing your arms against the sides of a doorway for a long time, then stepping forward and trying to relax. (Try it!) It's like a glowing retinal after-image of self-imposed anxiety, where there is this momentary, fading awareness, along with the opening look new things as it fades.
Since the launch, it's gone from a floating open feeling, to a profound sense of support.
You have my back. You care.
Thank you.
I'm deeply grateful, and it's highly motivating.
This is a wonderful feeling, and pure self-interest has me wondering what else I can do to keep it coming.
This is probably the single most valuable thing I can offer, more so than any physical help or technical information.
If you want to know more about the power of gratitude, read this article:
The Grateful Brain
. It offers scientific evidence that gratitude is not just an altruistic or pleasant feeling; it is a functional anti-depressant, and a literally and physically empowering state of mind. Science once again 'discovers' and proves out what traditional wisdom has been saying for millenia.
It's like human nature is wired so that when we help each other, giving and reciprocating favors, making gratuitous acts of kindness and decency, we become more powerful and determined in our own work. Fear and anger make us weak, while feeling grateful and supported literally makes us strong. I learned this from a behavioral psychologist and Marine veteran at the Center for the Intrepid; if you dismiss this as woo-woo, you are missing the boat.
Seeing our book take off is a little like
seeing Ernie walk again without crutches after 8 years.
So I want to share with you the most valuable lessons I took from watching the IDEO program, and Ernie's cohort of courageous survivors pushing through setbacks to rebuild their lives and physical grace:
Gratitude. Vitamin D. Give back. And never give up.
Ernie escaping into the wild
(See
previous
posts
about the
IDEO
program)
Your tremendous support doesn't mean we are going to just coast from here.
On the contrary, our gratitude is going to intrinsically push us to do more and better things. Can't help it. It's our biological nature. ;-)
Your support doesn't mean that we are going to coast from here.
We have a commitment from a world-class publisher for the overseas English version of the book - which means we'll be able to offer better shipping rates or even a whole different package for our international supporters. And we'll be scrambling to make sure the data is correct and relevant for those regions. If you're in the EU, UK, Australia, New Zealand, or outside North America, let us know if you have any last-minute questions or input for that edition. International supporters might want stick with the digital Kickstarter rewards for now, and keep your eyes peeled for announcements.
Many, many possibilities are unfolding. We're more than halfway to our minimum goal, and I am preparing to post the first stretch goal.
Chime in on what you'd like to see! This grateful feeling has me itching to give back in more ways.
I know many of you share our commitment to building stronger, more resilient communities; empowering people to get their hands dirty and build skills and problem-solving competency; and taking one bite at a time out of the "elephant" of global problems. (Thanks for that metaphor, Deston!).
Aligning our individual projects and efforts makes a bigger contribution to solving global problems. Your wishes are very good indicators of how we can give better service, and make a difference.
So please keep the comments coming. What is one more thing I might be able to offer you - or your friends and family, or your community?
Thanks again for reading these updates.
May your dreams prosper as you share them with others, and may your earnest service bring unlooked-for blessings.
Yours,
If you haven't yet found the Kickstarter to place your pre-order, click on this link:
https://www.kickstarter.com/projects/rmhbuildersguide/the-rocket-mass-heater-builders-guide
If you're not getting our newsletter, email me. questions@ernieanderica.com
I have one list for general interest (like this blog), and one that's specifically for dedicated rocket mass heater and wood/fire/masonry enthusiasts. I sometimes put out special offers there, like in-kind collaborations, beta-testing, or draft resources for review, that I don't release to the general public.
For those outside the USA, please read the FAQ for alternatives to costly international shipping. This thorough book is, understandably, somewhat heavy (it's 296+ pages, including the appendices and index).
Or you could
sign up as a booster
, like many of the rocket-stove regional leaders are doing. Uncle Mud is currently "winning" at booster referrals (go Chris!). International customers may be able to pay back your physical book/shipping by encouraging your friends and neighbors to chip in at some of the digital rewards levels. (Kind of a pyramid scheme, I guess - but we only have four weeks left, it's not like we can reach every person in the world without your help.)
Thanks, Teresa, for the word for "Natural alignment" marketing. The idea is that if we can count on our readers who naturally care about us and our work, to share this info thoughtfully with others who will naturally appreciate it, then everybody has fun. It's a lot less annoying (and more effective) than bulk marketing.
I have been getting cold-calls, emails, and Kickstarter messages offering to Tweet my stuff to Over a Million Subscribers for only $14.95! But if I don't have any relationship with those people or know what they like, what good would that do our reputation? And how many of them would really like or support our work, compared to the ones that have a negative reaction to us as are another annoying ad? I assume that our actual friends who actually use Twitter are actually re-tweeting (I have to go do a Tweet myself, haven't touched my account in way too long). And I'd rather rest on natural appeal than scuzzy marketing.
I would love your comments about clever twists on our natural appeal. Anyone who has visited us or our clients, and melted into a rocket sofa, knows why this is cool. But according to
xkcd
, there are something like 10,000 new Americans every day who are learning something for the first time that "everybody knows."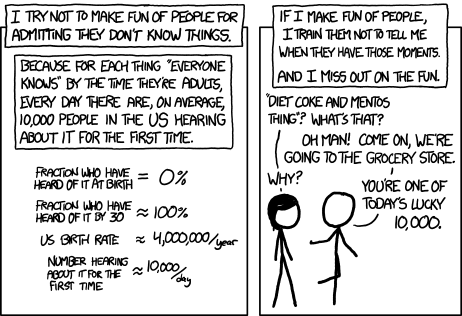 I'd love your ideas for how to present our work in ways that appeal to those thousands of people, for whom this is a brand-new discovery.
It would be really crappy statistics to extrapolate that we should reach over a quarter-million people in the next 28 days, but heck, let's go for it!
Let us know if you have ideas for more digital rewards that would be especially useful - for international work, for friends, would you like a special home-schooling package?
You know our work is much broader (and stranger) than this book alone. and our digital rewards can reflect that.
It's an honor and a pleasure to work with my wonderful clients and supporters.
You rock.