Image from FreeCycles.org, Missoula MT
I have a fire under me again.
Our recent Oregon visit introduced me to some living legends from Ernie's family lore.
Our mutual friends at
Seven Fires
are still cooking up powerful community collaborations around natural building and sustainable skills. I'm excited to work more closely with them come fall.
On my side, we had a great conversation about sustainable business life lessons, and making a living doing what you love, with the remarkable Bill Campbell of
Equilibrium LLC
.
It all ties back to our personal and big-picture goals: resilient communities, adaptive problem-solving, giving ourselves permission to thrive
by
supporting a thriving future for life on Earth.
So what's on our plate today, to do all that?
Image from FreeCycles.org, near Missoula MT
Peasant Permaculture Design Course, May 22-June 21, near Missoula MT:
Design principles and on-the-ground realities of what it takes to create a resilient, Earth-friendly lifestyle.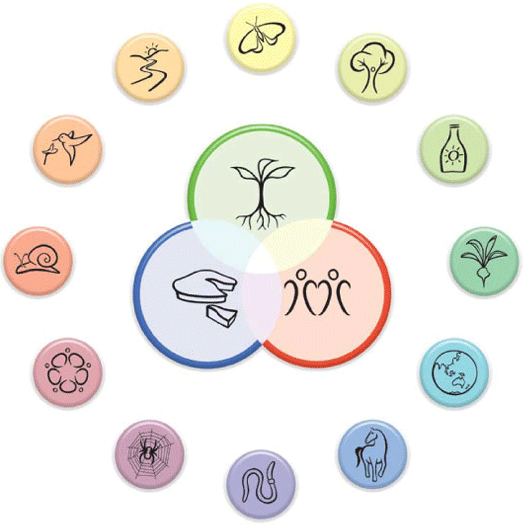 Image from permacultureprinciples.com
We have lined up some wonderful field trip hosts and guest speakers, and I'm still pulling more strings to bring back some of our favorite past students and collaborators to join us for this course. Plus, the marvelous Boots program manager will be co-hosting the projects for this course, for a lot more hands-on practical experience than most PDCs have time to offer.

This permaculture adventure is going to be amazing. And it's surprisingly affordable - so if your friends are balking at the usual PDC price tag, point them our way.
Read more, or
sign up here: https://richsoil.com/ppdc.jsp


Our host Paul has also invited returning guests, former students, and collaborators to drop in while we're in the area for what he's calling the "
Schmoozaroo
." Basically, if you've ever been part of our collaborations at Wheaton Labs, you are welcome to drop by for free, camp or join in some of the land projects or just stargaze, and be part of the vibe.
And as a special component of that, we are discussing a FREE 3-day workshop,
Rocket Off-Grid Kitchens, May 17-19
. (That's Thursday through Saturday, with the option to continue playing with the kitchen we've assembled on Sunday 5/20 if your time allows.)
This workshop will be no charge, but limited to 6 participants, hand-picked for their skills and past contributions to our work. Please get in touch ASAP if you're interested in applying for a spot.
Rocket Off-Grid Kitchens, May 17-19
We're excited to spend time with our friends and collaborators. And to take at least one trip over to
Free Cycles
in Missoula, for some creative bike-recycling to prototype Ernie's latest appropriate tech inspirations.
(No, it's not a giant bicycle-wheel dome. Guess what he's going to make?)
Yours,
Erica and Ernie